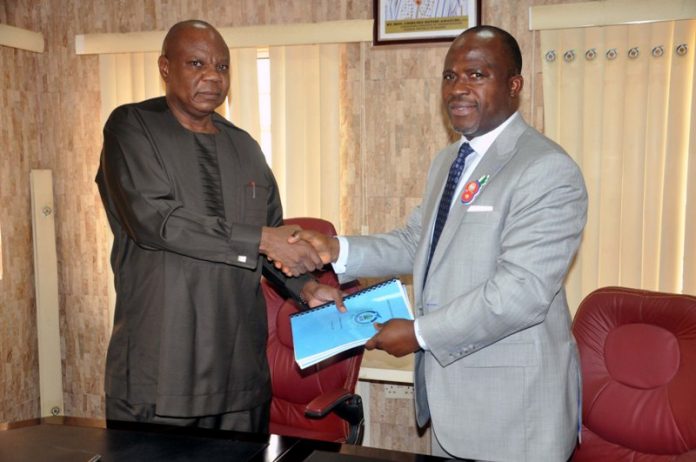 The new Commissioner of Accident Investigation Bureau (AIB) Engr. Akin Olateru has promised to make staff training a priority.
Speaking in Lagos when the former commissioner, Dr. Felix Abali, handed over to him, Olateru said training would improve staff's technical know-how.
"Aviation is highly technical, very expensive and the most regulated in the world. At the end of the day, we are all going to be happy because everyone will go on training and more opportunities would be given to people," he said.
He added that his vision at the agency is to make it the biggest in the nation's aviation industry.
"I have heard a lot about AIB. I know it is the smallest in the ministry, but, before the end of my tenure, I will ensure that the agency becomes the biggest of all. That's my mission," he said.
Olateru, who appealed to the staff and management for cooperation to move the agency forward commended Abali for improving the parastatal from where he met it and keeping it together over the years despite the "missiles".
"I thank you for keeping this place together despite the missiles. I will require the maximum cooperation of all staff. I can't do it alone, but we are here to make it happen. It is for the benefit of all staff of AIB if we can make this organisation to work. It's not about size sometimes, but about efficiency and effectiveness.
"This is a new dawn and I am begging everyone to give this new administration a chance. Whatever happened in the past, let it be in the past," he said.
Earlier, Abali commended the entire staff for their support towards during his tenure and called on them to support the new administration.
He, however, appealed to some aggrieved staff to sheath their sword for the growth of the organisation.
The new commissioner is aviation industry professional with vast airline and business aviation management expertise.
His industry experience and pedigree acquired in more than 27 years' versatile work exposure, crisscrosses the aviation industry in the UK, Europe and Nigeria at hands-on operational, management and top executive levels.
He has strategically grown his career pathway through the core aviation units of aircraft engineering maintenance, ground handling and airline passenger and cargo transport operations.
An aircraft maintenance engineer with Nigerian, UK and United States licences, Olateru began his career in engineering maintenance with Pan African Airlines and the Nigerian Police Air Wing from where he left Nigeria for further studies abroad.
In the course of his career, he also worked with KLM, Martin Air in Holland, British Aerospace Engineering, UK and British Midland Airways UK.
On his return to Nigeria in 2003 after obtaining an M.SC in Air Transport Management from the City University, London (the 2nd Nigerian citizen to bag that degree at the time), Olateru worked with the then government-owned Skypower Aviation Handling Company Limited (SACOL).
At SAHCOL, he served as head, safety and quality assurance and group head operations, marketing and business development during which time he developed and supervised organization wide safety and quality management systems bordering more than 10 internal departments with over 1,000 staff strength
He has successfully set up and managed two airlines, the latter being Omni-Blu Aviation Limited incorporated in 2013 and duly granted an Air Operators' Certificate by the Nigerian Civil Aviation Authority (NCAA) in December 2015.
As the chief executive officer, he grew the company into a multi-million dollar organization in contracts and strategic partnerships within 12months of obtaining its license.
The AIB commissioner is a full member of the Royal Aeronautical Society, United Kingdom and a Chartered Member of the United Kingdom Chartered Institute of Logistics and Transport.