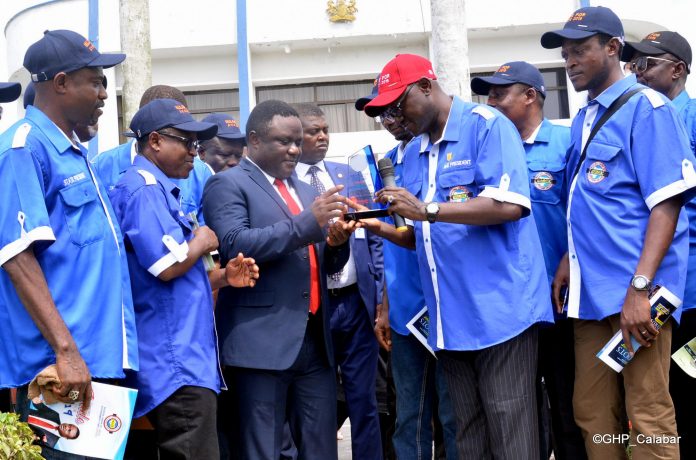 The governor of Cross River State government has pledged to give N500 million to any local government employee desiring to go into farming.
The state governor, Prof. Ben Ayade announced this in Calabar while addressing members of the Nigeria Union of Local Government Employees (NULGE) who staged a rally in Calabar and urged him to contest for a second term in 2019.
The governor however said the interest-free soft loan would be given out after carrying out due diligence on the type farming an individual would want to go into.
"I will set aside N500 million for any member of NULGE who wants to go into farming. We will inspect if you want to go into any of the value chains; we will give you partial interest free soft loans for you to go into farming," he said.
On the clamour for him to go for a second term, Ayade who also assured the workers that government would reintroduce proper imprest account to the local government councils declared: "A father cannot abandon his children and I must take local governments in Cross River to a level that by the time I leave office, you will be financially independent."
During the rally, the workers chanted solidarity songs and displayed various placards some of which read: "In Ayade we trust, workers salary is guaranteed," "Ayade all the way to 2023," "Ayade cares, labour supports," "The workers-friendly governor deserves another term," "Our digital governor, a friend of labour, carry go 2019," "Ayade is working, Cross River State is changing."
Speaking earlier, the national president of NULGE, Mr. Ibrahim Khaleel who came with some other national executive members said they were in the state to ask the governor to seek reelection, given his pro-workers policy.
"Our visit to Cross River State is the visit of love and peace and when you have these, God will surely stand with you. Trade union movement is a dogged movement aimed at telling you when you are wrong and right. For us to come here, fraternising with you and urging you to come back in 2019, you should know that we are genuine. For if we were not happy, the visit would have been different.
"We are here because of your prompt payment of salaries which is making our family happy. While your colleagues in some states are downsizing, you are promoting workers. We are in Cross River because we are elevated, welcomed, accommodated and your doors are wide open even when service at this level across the country is being relegated," he said.
While urging other state governors to emulate Ayade, the NULGE chief said the union was emphatic in its support for the governor.
"If your colleagues' approach to local government workers is like yours, our struggle to make local government autonomous would not be necessary. The state branch of Cross River NULGE has the mandate of the national executive council to call you to run again in 2019," he added.
Also speaking, the state chairman of NULGE, Mr. Godwin Ayendi, said the workers congregated to appreciate and urge Ayade to continue till 2023.
He said the governor had kept to his promise of not allowing anyone to go to bed hungry through prompt payment of salaries and the promotion of workers.
In his remarks, the Rivers State NULGE chairman, Mr. Franklin Ajunwa also lent his voice to the plea, saying: "You can see the smiles on the faces of your people. A dancer does not see his back. We have heard of your attitude and welfare to our people in Cross River. We are requesting that you listen to them."
Also speaking, the head of local government administration in Bekwarra, Mr. Simon Olem said: "We are here for one reason. We have moved from the hills of Obudu to the swamps of Bakassi because you have taken this state from Egypt. We are asking you to continue. Do not jump ship and leave us."