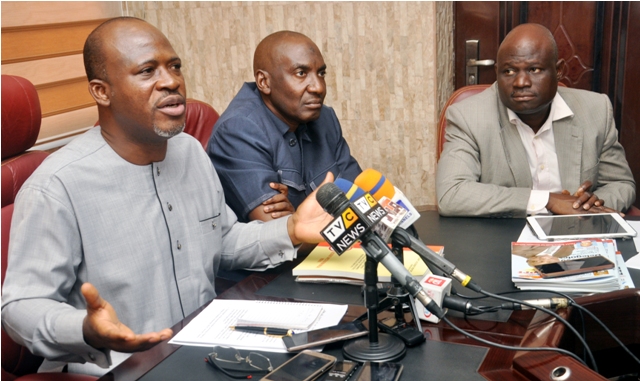 Accident Investigation Bureau (AIB) has released the final report on Associated Air's aircraft accident attributing the cause to poor regulatory oversight as well as the crew's decision to continue the take-off despite the abnormal number 2 propeller revolutions per minute (RPM) indication warning.
The aircraft which was conveying the remains of the governor of Ondo State, Dr. Segun Agagu, crashed on October 3, 2013 shortly after taking off from the Murtala Muhammed Airport Terminal 2, resulted in the death of 16 passengers while four sustained serious injuries.
Presenting the final reports on two aircraft accidents and four serious incidents which occurred between 2009 and 2014 at a press briefing in Lagos today, the commissioner/chief executive of AIB, Mr. Akin Olateru also traced the accident to the low altitude stall as a result of low thrust at start of roll for take-off from number 2 engine caused by an undetermined malfunction of the propeller control unit.
On the contributory factors, the commissioner traced the accident to the aircraft being rotated before attaining V1, the decision to continue the take-off with flap configuration warning and auto-feather warning at low speed, poor professional conduct of the flight crew, inadequate application of crew resource management (CRM) principles and inadequate regulatory oversight.
AIB released four safety recommendations on the crash directed to the Nigerian Civil Aviation Authority (NCAA).
It called on NCAA to enhance the enforcement of the regulations with regard to the implementation of operators approved personnel training programme and intensification of its safety oversight function on the airline to ensure that flight operations are carried out in accordance with approved operations manuals in line with the provisions of Nigeria Civil Aviation Regulations (NCARs).
Others are improved safety oversight on the affected carrier to ensure staff welfare issues and remunerations are settled promptly, as well as ensure that state confidential voluntary reporting system is established and implemented in line with the state safety programme.
AIB also released were five final aircraft accident and incident reports made up of one accident and four serious incidents that between 2009 and 2014.
Apart from the accident involving Associated Air aircraft, the agency also published the accident report involving Westlink Airlines Limited Piper Aztec 23-250 aircraft marked 5N-BGZ, which occurred at Matseri Village, Bunza local government area of Kebbi State on August 11, 2014.
The serious incidents were Aero Contractor's DHC-8-400 aircraft incident marked 5N-BPT which occurred on April 29, 2014, two Bristow Helicopters aircraft, Bell 412, marked 5N-BGS, and 5N-BDD, which occurred at the Addax Base Helipad, Calabar, Cross River State on November 12, 2009.
Others were incidents involving Tampico Club TB9 marked 5N-CBE, which occurred at Zaria Aerodrome, Kaduna State on October 4, 2012 and a Tampico TB–9 aircraft marked 5N-CBI that occurred at the same Zaria Aerodrome on May 23, 2012. Both aircraft belongs to the Nigerian College of Aviation Technology, Zaria.