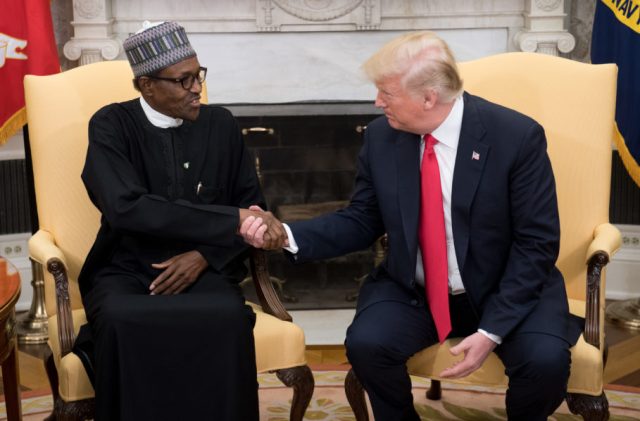 United States President Donald Trump has said that the killing of Christians in Nigeria is unacceptable to the American government.
Trump who stated this while receiving President Muhammadu Buhari at the White House, Washington DC, on Monday also described recent killings occasioned by terrorism in Nigeria as a "terrible problem."
Trump described the killing of Christians as a "serious problem" and also condemned the burning of churches and urged the federal government to security in the affected communities.
"Also, we are deeply concerned by religious violence in Nigeria, including the burning of churches and killing and persecution of Christians. It's a horrible story. We encourage Nigeria; the federal, state and local leaders; to do everything to secure the affected communities and protect civilians, including Muslims and Christians. The United States is committed to working alongside Nigeria as we seek a future of strength, prosperity and peace for both of our countries," he said.
Besides, Trump tasked Buhari on efforts to curb the spate of kidnappings in the country.
He particularly asked Buhari what he was doing about the remaining girls kidnapped from Chibok, a community in Borno State and the sole girl, Leah Sharibu, still in captivity of Boko Haram in Dapchi, Yobe State.
"We have met before, developing great relationship, we look forward to our discussions today, they are very important but again, especially as it relates to terrorism. That is terrorism here and terrorism all over the world.
"It's a hot bird and we are going to be stopping them. Also, we have had a very serious problem with Christians who are being murdered, killed in Nigeria. We gonna be working on that problem, and working on that problem very very hard because we can't allow that to happen. Mr. President thank you for being here, thank you.
"We have very much decimated ISIS, much has taken place over the last twelve months but Boko Haram has been terrible and how did you do with the young women that were kidnapped? How was that going?"
When asked about corruption in Nigeria, Trump said America gives Nigeria $1 billion yearly.
"We have actually discussed this. In terms of corruption, Nigeria has a massive reputation for corruption as you can see very well and we also know that the president has been able to cut them down to a certain state. We talked about it; he is working on it and has made a lot of progress.
"I think he will continue to make a lot of progress. We have a lot people in this country and the country itself that invests in Nigeria, so cutting down the corruption element and a corrupt element is very important to us and the president will be able to do," he said.
In his response, praised the United States government for assisting Nigeria in intelligence gathering and some other military support.
He assured that efforts were ongoing to secure the release of the schoolgirls still in Boko Haram captivity.
"Thank you, Mr. President for inviting me. It's a great honour, I am very grateful for it. Certainly, security is the main issue, we are very grateful to the United Sates for agreeing to give us the aircraft we asked and the spare parts. We are even more grateful for the physical presence of the United States military instructors that go into our institutions and train them, and go to the front in the North East to see how they are performing as a result of the training given to them.
"The Chibok girls kidnap was before we came in 2014. We have only a number of them; we recovered about thirty of them. But the Dapchi ones, they were 106 that were kidnapped, we got 100 back, four died, one is still held in captivity and we are very grateful for the United Nations organisation that is acting in between us and the kidnappers and haven't given up, we are trying to get everybody back to join their families and their schools".
"The commitment of the United States to get rid of terrorism across the world, we have had first-hand experience of that and we are very grateful for it.
"The problem of cattle herders is a very long historical problem. Before now, Nigerian herders were known to carry a stick and occasionally a machete to cut down foliage and give it to their animals. These ones are carrying AK47 so I don't think people should underrate what happened in Libya.
During the 43 years of Gaddafi, people were recruited from Sahel and trained to shoot and kill. With the demise of Ghaddafi, they (recruited persons) moved from their country and their region with their training and their weapons and that is what aggravated the situation.
"We are doing our best to ensure that we stop cross border and so on and to get the proliferation and small arms weapons in the regions checked. But it is going to take time, and the action by the United States in trying to see the end of ISIS has helped us a lot because Boko Haram in Nigeria at one time made a statement that they were loyal to ISIS. And now that ISIS has virtually gone with the help of the United States, we are very grateful for that and we are sure that we are stabilising the situation of security in Nigeria.
"We are happy with the effort of the United States to see the end of ISIS. This has helped us a lot because the Boko Haram in Nigeria had one time made a statement that they belong to ISIS.
"Now that ISIS is virtually gone, we are very happy. We are stabilising the situation in Nigeria."
Later, at a joint press conference, Buhari said the US and Nigeria were collaborating to repatriate over $500m stolen from Nigeria.
He said the funds were stashed away in banks across the world.
"Our two governments have put the machinery in place for our respective attorneys-general to collaborate in ensuring the return to Nigeria of over $500m looted funds stashed away in banks around the world.
"In this connection, we congratulate the US government on launching a Kleptocracy Asset Recovery Initiative which was spearheaded by the US Department of Justice Asset Forfeiture and Money Laundering. We hope that we could continue to count on the US support in this area," he said
For his part, Trump said corruption in Nigeria is massive but acknowledged that Buhari was cutting down on the menace.
"In terms of corruption, Nigeria has a reputation for very massive corruption. The President has been able to cut that down very substantially. We talked about it; he is working on it and they have made a lot of progress and I think they will continue to make a lot of progress.
"We have a lot of people in this country that invest in Nigeria. So cutting down that corruption element is very important and the President will be able to do that," he said.