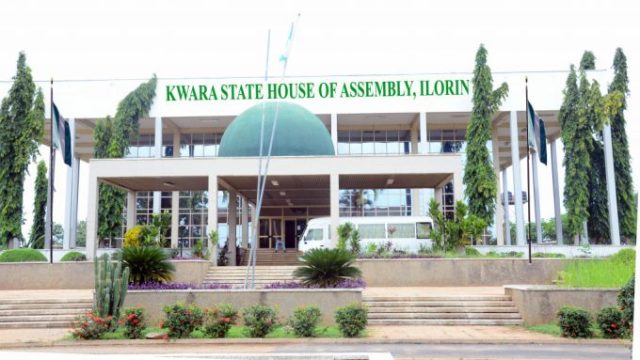 The speaker of the Kwara State House of Assembly, Mr. Ali Ahmad, together with 22 other lawmakers of the 24-member assembly on Wednesday defected from the ruling All Progressives Congress (APC) to the Peoples Democratic Party (PDP).
The only lawmaker remaining in the APC is the representative of Ojomu-Balogun state constituency in Offa local government area, is Mr. Saheed Popoola.
The defection is coming less than 24 hours after the senate president, Dr. Bukola Saraki and the state governor, Mr. Abdulfatah Ahmed also left for the PDP.
"Today, as I and other members of the Kwara State House of Assembly dump the APC for good, I heaved a sigh of relief," Ahmad posted on his twitter handle.
"In 2014, I was terribly sad leaving PDP reluctantly with 36 other members of the House of Representatives. Today, I am the happiest leaving the APC for good."
Each of the 23 members, including the speaker, signed the letter of the defection.
In his remarks, Ahmad said that the movement to the PDP by the 23 lawmakers became imperative "since the APC has failed to meet the aspirations of Nigerians".
He alleged that the APC-led federal government was harassing and intimidating top government functionaries instead of tackling the problem confronting the nation.
"In 2014, l was terribly sad leaving PDP reluctantly with 36 members of the then House of the Representatives. Today, l am the happiest man leaving APC for good. l wish l was never a member of that party," he added.
The speaker directed all the proselytes to urgently consult the electorate in their various constituencies of the development.
Similarly, the national publicity secretary of APC, Mr. Bolaji Abdullahi, has tendered his resignation to the party leadership also on Wednesday.
"In view of recent political developments in the country and within the All Progressives Congress (APC), I have decided to resign my position as the National Publicity Secretary as well as my membership of the party with effect from today.
"In the last few days, I have had to endure the flagrant usurpation of my role as the spokesman of the party in a manner that I consider unbefitting of a ruling party and inconsistent with my ethical standards.
"I have served the APC honestly and to the best of my ability and when I stood for and won my election at the last convention it was a keen desire to continue to do so.
"However, in a situation whereby my loyalty is constantly brought into question; my subordinates deployed to subvert my office; and my views constantly second-guessed on the basis of my political affiliation, it has become imperative for me to review my position," Abdullahi tweeted his unverified Twitter handle, Bolaji Abdullahi @BolajiAbdullahi.