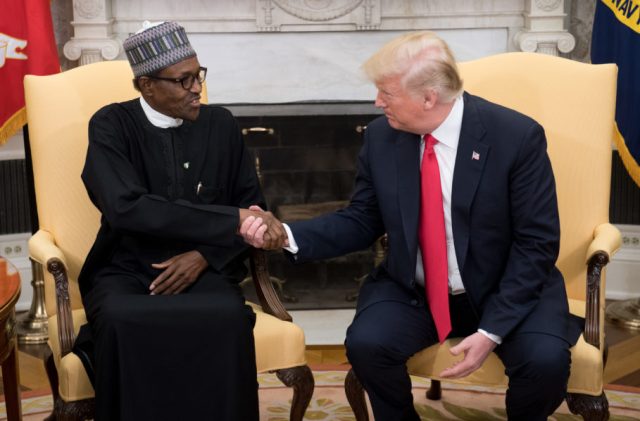 Reproduced below the Financial Times article containing President Donald Trump's 'unpresidential' remark on President Muhammadu Buhari

Donald Trump will welcome Kenya's Uhuru Kenyatta to the White House on Monday for what will be only the second one-on-one meeting the US president has held with a sub-Saharan African leader since he took office last year.
The first meeting, with Nigeria's ailing 75-year-old Muhammadu Buhari in April, ended with the US president telling aides he never wanted to meet someone so lifeless again, according to three people familiar with the matter.
Advocates of closer US-Africa ties hope his encounter with the younger, more urbane Mr Kenyatta, 56, will breathe fresh life into a relationship with a region that Washington is seen to have neglected as other countries, notably China, develop ever-closer trade and investment ties with the continent.
Under Emmanuel Macron, France is also trying to reset its relationship with its former colonies in Africa and deepen commercial ties with bigger economies in the Anglo sphere, such as Nigeria and South Africa.
"Trump likes chemistry," said a person in touch both with senior US administration officials and the Kenya delegation preparing for Monday's meeting. "Africa has never been high on his radar but if the big guy likes you he'll find a way to make things work."
Trump is widely criticised for not having an Africa policy. So it's in his interest to have something from [meeting Kenyatta] he can present as a win.
Joshua Meservey, senior policy analyst for Africa at the Heritage Foundation, said: "Presidents Trump and Kenyatta have a pretty warm relationship which can hopefully pave the way for more engagement with Kenya and the rest of Africa." The Kenyan president, he suspected, might try to "carry the torch" for the whole continent.
After his meeting with Mr Trump, Mr Kenyatta will meet Theresa May, the UK prime minister, in Nairobi next week before flying to Beijing in early September for the Forum on China-Africa Co-operation summit to be presided over by Xi Jinping, China's president.
"A lot of the influence that America used to wield not too long ago is pretty much diminished," said Patrick Gathara, a political commentator in Kenya. The increasing interest of other countries in Africa — including Turkey, India and the Gulf States, as well as China — gave African countries more diplomatic options he said.
Washington and Nairobi are expected to sign a series of commercial agreements that could "create hundreds of American and Kenyan jobs", a White House official told the Financial Times.
Many expect Mr Trump will try to seal a deal over the plan by Bechtel, the US engineering group, to build a $4.5bn four-lane motorway between the port city of Mombasa and Nairobi for which financing has not yet been fully secured.
Donald Trump's meeting with Nigeria's Muhammadu Buhari was reportedly not a success © Reuters
Aubrey Hruby, co-founder of the Africa Expert Network, said Washington was not focused enough on backing US commercial interests in Africa. "France, China and other countries do direct commercial diplomacy," she said. "We get too bogged down in conflict of interest," she said, adding that Washington officials were reluctant to be seen backing one US company over another.
While many in the administration are keen to develop relations with the continent along business lines, in place of a traditional focus on aid and security, Mr Trump's repeated gaffes have hampered efforts to push the continent higher up the agenda.
The US president appalled leaders on the continent by including African nations among those he allegedly disparaged as "shithole" countries in January. Last year, he mistakenly referred to Namibia as "Nambia" during a public address.
Even last week, Mr Trump waded into a debate over land ownership in South Africa, alleging "the large-scale killing of farmers". The incidents of such killings have fallen sharply.
"Trump is widely criticised for not having an Africa policy," said Grant Harris, former Africa director at the National Security Council. "So it's in his interest to have something from Monday he can present as a win," he said, adding that the US was considering a reciprocal trade deal with Kenya.
Mr Harris said the onus was also on Mr Kenyatta whose country, like many others in Africa, had borrowed heavily from China, leaving little room to do business with the US.
A White House official said the Trump administration was "progressing" with the development of an Africa strategy, adding that Kenya was one of Washington's closest security, counter-terrorism and trade partners in Africa.
Two months ago, Tibor Nagy, a former US ambassador to Guinea and Ethiopia, was finally confirmed as the state department's top Africa diplomat.
Mr Kenyatta's reception in the Oval Office is a boost to a man who once faced an indictment from the International Criminal Court in The Hague for crimes against humanity over his alleged role in the mass violence that followed the 2007 elections. The charges were ultimately withdrawn in 2014.
"There won't be any mention about corruption in Kenya or human rights," said Mr Gathara, who said he was sceptical about the Kenyan president's recent "war on corruption". Under Mr Trump, he said, the US was now also perceived to have "lax standards", reducing its authority to pressure anyone else.