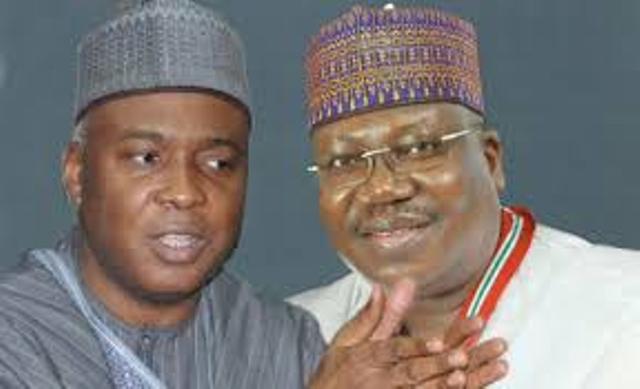 The All Progressives Congress (APC) caucus have shelved their plan to force Dr. Bukola Saraki to resign as senate president or plot his impeachment
Reliable sources said both the APC and the Peoples Democratic Party (PDP) caucuses, who had been at daggers drawn over who controls the senate, had resolved to suspend the infighting as both parties had failed some of their members in the chamber.
Sources from both camps said that senators who lost out in the primaries held by the two dominant parties had resolved to stop defending the interests of their parties in the chamber.
Punch reports that there has been a power tussle between members of the APC and PDP in the Senate and House of Representatives over which party now has the majority, following defections by lawmakers.
The power play had become worse when Saraki and the speaker of the House of Representatives, Yakubu Dogara, defected from the APC to the PDP.
The APC caucuses in both chambers had asked Saraki and Dogara to resign as senate president and speaker, respectively, or be impeached when the lawmakers resumed from recess.
A source in the Saraki/PDP camp said the senators had agreed "to give peace a chance."
"The Senate today reconvened after about two months recess and immediately went into a closed session where all members had frank discussions about the future of the 8th Senate as it goes into its last stage.
"The members agreed to give peace a chance and avoid allowing the Red Chamber of the federal legislature to degenerate into an arena of conflict over partisan and personal issues.
"The APC caucus leadership also extracted a promise from SP (Senate President) that national interest will continue to take precedence over any other consideration in the activities of the Senate."
"The senators agreed not to allow external forces and influence to cause disaffection, disturbance or crisis within the legislature," said the source.
Another source in the same camp said: "They (APC/Buhari camp) extracted a promise from Saraki to cooperate with the government and not allow partisan politics to come in. Everybody has agreed that the status quo should remain and not allow external forces to destabilise the senate.
"They are not happy. How many of them attended the meeting (held somewhere in Abuja on Monday night)? They were not many. Those of them who got party tickets are so exhausted financially and physically. Those who did not get tickets are not happy. It is at this stage that we can now ask their aggrieved members to join us, which will not be good for them."
In the APC/Buhari camp, a prominent member who spoke on the condition of anonymity admitted that some of their members were aggrieved for losing party tickets.
Asked if it was true that the APC senators had ceased fire on Saraki's impeachment, the lawmaker said: "Not exactly but we have agreed to first of all address matters of urgent national importance. They include INEC budget, confirmations, the FCT budget, among others. We cannot be engaged in a fight and ignore such matters of urgent national importance. It's like a war. During a war, you can agree to ceasefire in order to address some issues.
"The second issue is that in both sides – PDP and APC, so many of our members have become casualties during the primaries. That has weakened the cohesion of both sides. We have started asking ourselves why we are fighting. If the PDP will not recognise you or reward you and APC promised automatic tickets to those who did not defect and they did not get the tickets, people will be disgruntled. People are now asking, "Why are we fighting ourselves?" Naturally, people who are aggrieved have placed personal interest above national interest."
Earlier on Monday night, the senate majority leader, Mr. Ahmad Lawan had reportedly threatened drastic action by the APC caucus should the senate leadership fail to consider Buhari's requests pending before the chamber.
"I want to assume that every one of us will be responsive and responsible to see the need and necessity of considering those issues. But if the leadership refuses, then we will have to take every measure to ensure that we pass them. We cannot see the reason why we cannot consider them. Anybody who says we can't, we have every right to say it is possible," he reportedly said.
On whether the pro-Buhari senators were still bent on seeking leadership change in the senate, Lawan said: "No, I don't have anything to do with that. I want my government to succeed; I want President Muhammadu Buhari to succeed," he said.
When reminded of his earlier calls for Saraki's removal as senate president, the lawmaker replied: "I know but I don't want to answer questions if I feel that I am not… What is crucial to me is the success of this administration."