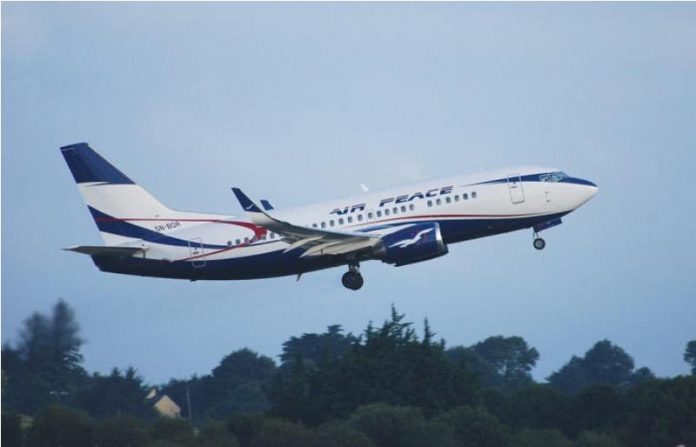 Air Peace has attributed the delay in starting its long-haul flights to aero politics played by some destination countries.
The airline has been designated to operate flights to London, Guangzhou-China, Houston, Mumbai, Johannesburg, Dubai and Sharjah.
Speaking at the 5th Aviation Stakeholders' Forum held in Abuja recently, the airline's chief operating officer, Mrs. Oluwatoyin Olajide said authorities of most of the international destinations the carrier had been designated to operate to were either deliberately foot-dragging in processing its application or imposing frustrating conditions to discourage it from flying into their domains.
She said some of the destination countries responded to the airline's application only after about two years.
Where the destination countries reluctantly approved the airline's application to fly into their domains, Olajide said impossible charges were imposed to frustrate and discourage it from acting on such approval.
She described as "unfortunate" such high charges adding that foreign airlines are rather pampered in Nigeria and given approval to operate to multiple destinations.
She dismissed the claims that domestic airlines lack the capacity to take advantage of the Bilateral Air Service Agreements (BASA) Nigeria signed with different countries.
She said Air Peace, for instance, "is at the moment consistently operating into 14 domestic and five regional destinations, including Accra, Banjul, Dakar, Freetown and Monrovia.
The chief operating officer maintained that Air Peace has the capacity to operate into all destinations approved for it.
He announced that the airline was concluding arrangements to launch its Dubai and Sharjah services before the end of the year.
In apparent response to the claim that some foreign airlines operating in Nigeria had offered jobs to 20 pilots, Olajide said the carrier had so far directly offered jobs to more than three thousand Nigerians, besides impacting the nation's economy in many other respects.
She also identified the inability of airlines to operate into most of the nation's airports at sunset as a great disservice to the operational capacity of Nigerian carriers.
Commenting on the stillborn national carrier project, which her airline had criticised as being out of fashion and a drain on public resources, Olajide wondered whether it would be fair for the federal government to confer the planned airline with advantages not available to the existing private carriers.