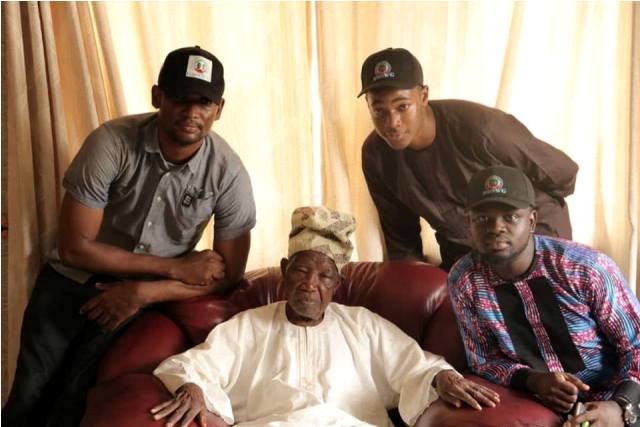 The former governor of Lagos State, Alhaji Lateef Jakande, has made a case for Nigerian youths to be actively involved in politics.
Speaking youths under the aegis of 'Buhari Osibanjo South West Support Group (BOSWSG)' visited him at his Ilupeju residence recently, Jakande challenged youths not to be aloof for the future belongs to them.
"Nigerian youths have come of age and they have a duty to be involved actively in politics because the future belongs to them. I sincerely look up to Nigerian youths to be politically active and I am prepared to support them in whatever way they may need me," he said.
He also expressed supported the federal government's war against corruption and enjoined youths to join in the fight.
"I must commend this administration on its effort so far in fighting and checkmating corruption. I do not support corruption in office. It is condemnable, unjust and totally evil.
"Every government at all levels and Nigerians, especially the youths, should join in the fight against corruption. I am opposed to it (corruption) and any government that fights corruption will always have my support," he said.
Besides, the octogenarian said the government has a duty to fight corruption so as to continue to earn the respect of all Nigerians.
"Let us be united in our fight against corruption and let the people be served to the best of our ability. Every Nigerian deserves to be served and we must make Nigeria a country where love and service prevail. As for me, I will always support this administration and it will always have my support in waging war against corruption," he stressed.
In his remarks, the leader of BOSWSG, Ms. Temilade Okesanjo, said the federal government had done a lot to redefine the future for Nigerian youths.
"We realize that tremendous work has been done by this administration with many of its programmes aimed at redefining the future for the Nigerian youths. Our group has conducted detailed research into the achievements of this administration especially as it concerns the youths and we are convinced that Buahri/Osinbajo administration need be supported by the youths.
"Our group is simply a support group that is out to tell the youths what this administration has done for them and the need to stand for the administration and also get actively involved in politics so as to participate in reshaping the fortunes of our great nation," said.
She said the support group never doubted that if all Nigerian youths come together to support the Buhari/Osinbajo administration for another fur-year term, Nigeria will witness another four years of consistent anti-corruption fight, job creation and youth empowerment.
Okesanjo described as laudable and commendable the President Muhammadu Buhari administration's National Social Investment Programmes, N-Power schemes, ICT development projects, and many other youth-oriented programmes.
She said BOSWSG was established to project the achievements of the Buhari administration, especially to the youths.