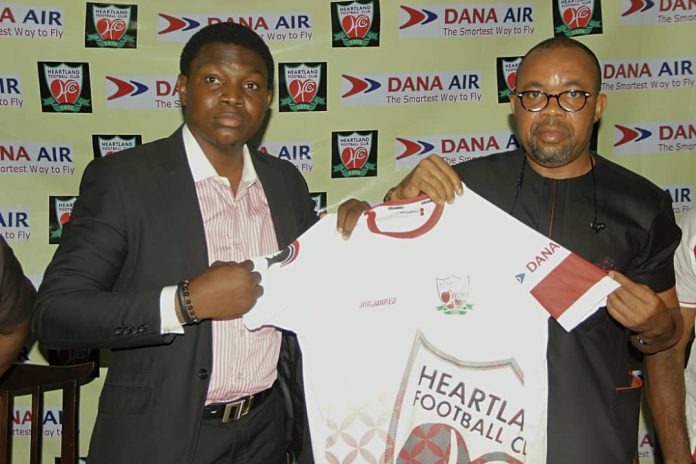 Dana Air has extended its sponsorship deal for Heartland FC of Owerri for the duration of the 2018/19 Nigerian Professional League (NPFL) Season.
Speaking at sponsorship renewal ceremony held at the conference hall of De-Range hotel in Owerri, Imo State, spokesman for Dana, Mr. Kingsley Ezenwa said the club had introduced innovations to make the league worth watching.
"We are happy to be back here to unveil another mouth-watering deal for our darling team – Heartland FC of Owerri, Imo State. We are proud of the innovations that the club is introducing to our league and the transformation that the team is undergoing at the moment.''
"At Dana Air we are not just concerned about flying our guests to and fro Owerri and Abuja, but we are concerned mostly about what we can positively contribute to the development of the state, in furtherance of other CSR activities we have carried out in Imo state.
"We believe sports; particularly football is another way we can impact the state and the good people of Imo state by doing everything to ensure that their beloved team gets all the support to play the continental games this season. Also, considering the futuristic airline partnership that we have with the forward-looking Imo state government, Heartland fc becomes central in our sponsorship considerations.
In his remarks, the chairman and president of Heartland FC, Chief Goodfaith Etuemena commended the management of Dana for considering the club in its sponsorship initiatives.
He said the gesture "is first ever in the country by any airline in the country and the most innovative for the second year running."
He added: "We are thankful to Dana Air for considering an extension of this sponsorship deal for our great club –Heartland FC of Owerri.
"We have also done a lot on our part to improve so that we can continue to attract amazing sponsorship like this.
"At the moment, we have a foreign partnership for the production of our kits and they are of top quality.
"We also have a new home ground, a foreign coach and with Dana Air embossed boldly on our home and away jerseys we hope to make them proud for their investment and believe in the team since we came from the lower league."