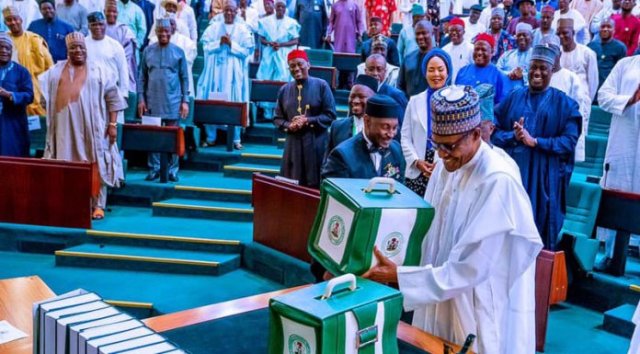 President Muhammadu Buhari presented a budget estimate of N10.33 trillion for the 2020 fiscal year to a joint session of the 9th national assembly yesterday.
Christened 'Budget of Sustaining Growth and Job Creation' the budget is N1.4 trillion higher than the N8.9 trillion approved by the national assembly for the current fiscal year.
Below are some highlights of the budget.
*N8.155 trillion is estimated as the total federal government revenue in 2020 and comprises oil revenue N2.64 trillion, non-oil tax revenues of N1.81 trillion and other revenues of N3.7 trillion. This is 7 per cent higher than the 2019 comparative estimate of N7.594 trillion inclusive of the government owned enterprises.
*Aggregate expenditure of N10.33 trillion is proposed for the Federal Government in 2020.
*Debt service is estimated at N2.45 trillion
*Provision for Sinking Fund to retire maturing bonds issued to local contractors is N296 billion.
*N556.7 billion is provided for Statutory Transfers in the 2020 Budget and includes:
a. N125 billion for the National Assembly;
b. N110 billion for the Judiciary;
c. N37.83 billion for the North East Development Commission (NEDC);
d. N44.5 billion for the Basic Health Care Provision Fund (BHCPF);
e. N111.79 billion for the Universal Basic Education Commission (UBEC); and
f. N80.88 billion for the Niger Delta Development Commission (NDDC), which is now supervised by the Ministry of Niger Delta Affairs.
Budgetary allocation to the National Human Rights Commission (NHRC) upped from N1.5 billion to N2.5 billion (67 per cent increase).
Recurrent expenditure
*Non-debt recurrent expenditure includes N3.6 trillion for personnel and pension costs, an increase of N620.28 billion over 2019.
*Overhead costs are projected at N426.6 billion in 2020. Note: Additional provisions were made only for the newly created ministries.
Capital expenditure
*Aggregate sum of N2.46 trillion (inclusive of N318.06 billion in statutory transfers) is proposed for capital projects in 2020. The 2020 capital budget is N721.33 billion (or 23 percent) lower than the 2019 budget provision of N3.18 trillion.
Some key capital spending allocations in the 2020 budget include:
a. Works and Housing: N262 billion;
b. Power: N127 billion;
c. Transportation: N123 billion;
d. Universal Basic Education Commission: N112 billion;
e. Defence: N100 billion;
f. Zonal Intervention Projects: N100 billion;
g. Agriculture and Rural Development: N83 billion;
h. Water Resources: N82 billion;
i. Niger Delta Development Commission: N81 billion;
j. Education: N48 billion;
k. Health: N46 billion;
l. Industry, Trade and Investment: N40 billion;
m. North East Development Commission: N38 billion;
n. Interior: N35 billion;
o. Social Investment Programmes: N30 billion;
p. Federal Capital Territory: N28 billion; and
q. Niger Delta Affairs Ministry: N24 billion.
*Budget deficit is projected to be N2.18 trillion in 2020, including the draw downs on project-tied loans and the related capital expenditure.
The deficit will be financed by new foreign and domestic borrowings, privatization proceeds, signature bonuses and draw downs on the loans secured for specific development projects.
*N2.45 trillion provided for debt service with 71 per cent to service domestic debt which accounts for about 68 percent of the total debt.
*N296 billion is provided for the Sinking Fund to retire maturing bonds issued to local contractors.
*N65 billion for the Presidential Amnesty Programme (PAP) retained.
*N37.83 billion budgeted for the North East Development Commission (NEDC).