Ime Akpan
The World Health Organisation says there are at least 2.2 billion people who have a near or distance vision impairment.
In Nigeria, there is no accurate data but optometrists say there are about 50 million visually impaired people, including seven million who are blind. The condition limits their ability to work, learn, play or have access to certain services.
Analysts say no country can achieve desired development by excluding a particular section of the society.
Regrettably, a large section of the society, including visually impaired community, is excluded from the benefits of banking services.
The world community is therefore faced with the need to search for new ways of social adaptation of the visually challenged to the life in the civil society.
One of the ways is financial inclusion, which the United Bank of Africa (UBA) has spearheaded, with the recent rolling out of 'UBA Braille Account Opening Form' which has been adjudged as a first-of-its-kind initiative in the Nigerian and African markets.
The product is specifically designed to cater for the financial needs of the visually impaired as well as give them greater autonomy and makes each transaction more secure and trusted.
UBA takes after a European bank, BNP Paribas, which has an 'Accessible Bank for All' programme that allows blind and visually impaired customers to use their ATMs.
It has been named as one of the leading banks for most creative solutions, and customers with vision impairments can have a better banking experience while using ATMs.
In 2010, BN Paribas launched 'Voice Assisted Withdrawal' feature, which allows visually impaired customers to complete their transactions without assistance from anyone.
In 'Remote banking services for the visually impaired in Britain as a tool for creating barrier-free environment' Inna V. Goncharova, et al, say "rather than being perceived as a burden, banks now see blind and other disabled customers as previously untapped customer segments.
"Beyond the talking ATMs the major banks have offered for years, banks are rolling out service enhancements that emphasise voice — tools that can enhance accessibility for visually impaired customers.
"A notable example is USAA's mobile app's voice-guided deposit…a feature that lets visually impaired customers deposit checks by taking pictures of them, following voice prompts.
"Others have made a push on voice-activated services, including TD's VoicePrint authentication…Capital One's Alexa skill, which lets customers check balances, track spending and pay bills.
"Instead of seeing accessibility requirements as a burden, banks are now seeing them as opportunities to reach a large market segment….
"The majority of banks realise that they're reaching an untapped marketplace — about a trillion dollars (of transactions are controlled by people with visual impairments."
Until now, the visually impaired group in Nigeria has been disadvantaged, but with ground-breaking initiative, UBA has fully demonstrated its unwavering commitment towards providing an excellent user experience for all its customers, regardless of their individual abilities or disabilities.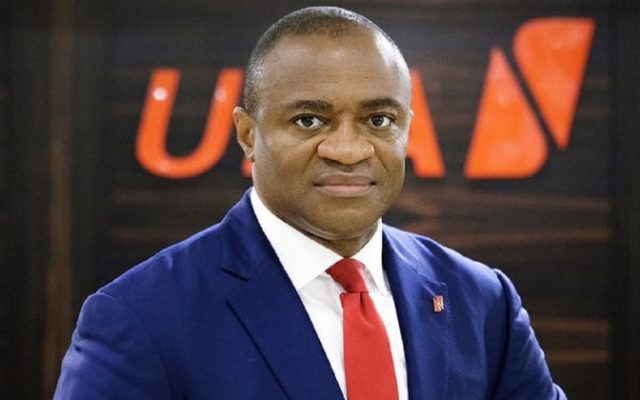 The Braille Account Opening Form which was launched in Lagos recently is meant to make the physically challenged and others comfortable in their life-long relationship with the financial industry.
In other words, visually impaired users are sure they are being factored into the banking system.
The Braille account is produced with the support of the Anglo-Nigerian Welfare Association for the Blind and it is the first of its kind in the industry, designed specifically to cater for the needs of visually impaired individuals.
With this innovative solution, UBA is empowering blind customers to independently initiate and complete the account opening process, ensuring their seamless integration into the financial system.
The bank's executive director, finance and risk management, Mr. Ugo Nwaghodoh, who spoke at the event, said the bank means to avail its services to every segment of the society.
He said UBA would continue to look for ways to make the physically challenged and others comfortable in their life-long relationship with the financial industry.
"In our quest to drive all-encompassing financial inclusion, we decided to support the visually impaired by developing a Braille Account Opening form and these special customers now have the same opportunities available to our customers.
"The ultimate benefit is to ensure that everybody has the right to choose the kind of account they want to operate, and this account opening form will go a long way to ensure this," he said.
Singer and award-winning music producer, Mr. Cobhams Asuquo, who endorsed the Braille account form, described it as "an innovative initiative" that presents UBA as a bank with a heart that pays keen attention to the needs of the blind and disabled.
He said the bank has promoted inclusivity and challenged the other banks to replicate it and give banking a sense of humanity.
"Before now, we have always been at the mercy of the reader when we want to do things like open accounts for ourselves, but this account opening form has come to solve the problem of access which has previously been a huge limiting factor for people like me who are blind.
"With this initiative, UBA has promoted our ideal of inclusivity and has helped to put back freedom in our hands while opening us up to the variety of opportunities and options available to us.
"UBA has blazed the trail, I am beyond elated, as this new initiative will send a strong note to others to replicate the same feat and make people realise that banking services can and should be done with humanity in mind," he said.
Asuquo expressed his appreciation to UBA "for amplifying this much-needed cause" adding "I endorse this 100 per cent and I believe it is a much-needed first step that will lead to so many others."
For the general manager, Lagos State Office for Disability Affairs (LASODA), Mr. Dare Dairo, the UBA Braille account is a "beautiful project."
"I am so elated at this initiative, and I am happy to hear that this is also going to be replicated in the 19 African countries where UBA is present. I say thank you to this bank for this beautiful project. It is true that Government cannot do it all, and we are glad when we see institutions charting the course for others," he said.
A visually impaired who spoke with NewsGazette on the condition of anonymity also commended the bank for the initiative.
However, he said UBA, which has pioneered what he described as "Braille banking" should go beyond the account opening and provide physical infrastructure for visually impaired persons entering the bank.
He suggested the provision of modern lifts that are equipped with tactile buttons and Braille information useful for sightless passengers.